Release of the book speech delivered by
Eddie Durso on October 30, 1992 at Palumbo's Restaurant

I would like to thank everyone for all your letters and support.

Your encouragement inspired me to write about my many experiences with Mario Lanza. The letters I've received from friends and well wishers from around the world, many of whom are present this evening, were a joy to read and made this project all worth while.

I would especially like to thank my son John and Steve Vertlieb, without whose invaluable help the book would never have been finished.

The whole experience of this book has been a great pleasure for me for several reasons. The first being the sharing of my memories of Mario Lanza as a boy and young man, all beginning an unbelievable 60 years ago, well before his worldwide fame and recognition, a time when he had only our entertainment to concern himself with.

Even then, however, he seemed to recognize the great gift from God he had been given and what greatness he would attain. He was charismatic, fearless, fun loving and a bit mischievous. We were drawn to each other by our common interests and by that special something that makes boys loyal friends.

I can still hear him yelling my name two city blocks away in a high "C" as loud and as clear as a noon day siren. Whenever I heard that call I would stop dead in my tracks. I knew Freddy would appear in a minute or two with an idea, or a place to go: to the gym, the fights, the movies or the opera, to get something to eat or simply trying to find out where the action was, be it on the streets of South Philadelphia or Wildwood, New Jersey.

I am proud to say that Freddy would, at times, actually listen to me. On many occasions, though, I had to physically drag him away from the trouble that somehow always attracts teenagers. But what fun we had, these were our Golden Days.

Unfortunately it has taken over 30 years for me to finally share my memories of Mario. I apologize for that but it also has taken over 30 years for much of the world to realize at last what we have known all along, that there has never been nor will there ever be a voice as thrilling as that in the man we knew as Mario Lanza.

I can only admire and congratulate all of you for perpetuating his memory.

I know Mario is looking down on us in this room tonight counting everyone here just as much a friend to him as I was.

God bless you and thank you from the bottom of my heart.
Click Here To Download The PDF Book File
(Approx 4megs)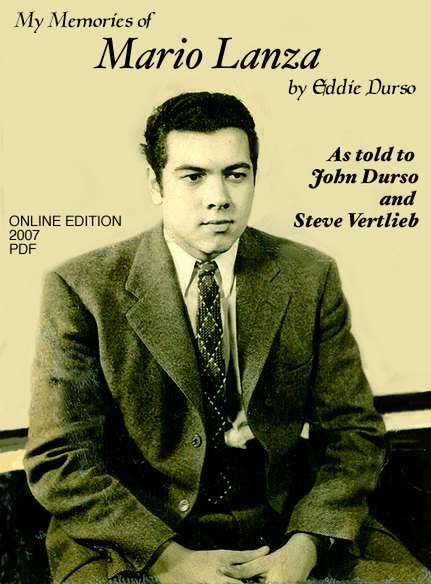 Click Here to go to PHOTOS
Click Here to go to ARTICLE SCANS